I love a good bull market as much as anyone.  And I don't like to fight the trend.  So if the stock market – having bounced off of an oversold situation recently – wants to burst forth to new highs I for one will not be a naysayer.
Er, OK, let me amend that.  I might be a naysayer, but I won't fight the trend.
OK, wait, let me amend that.  I might be a naysayer and I won't fight the trend, but I might consider hedging my bets depending upon what happens next.
Stuff Naysayers Say
Following the selloff in late June, early July, the stock market – particularly the Nasdaq – has rallied sharply.  In fact the Nasdaq – powered by the "cool stocks" like Google, Apple and Netflix – has gone pretty much vertical during this recent advance.  But there are a few concerns, to wit:
*As you can see in Figure 1, the Nasdaq (represented by ETF ticker QQQ) is the only major index that has broken out (so far) to a new high.  This doesn't mean that other won't follow suit.  But until they do the whole thing feels a little "iffy".
(click to enlarge)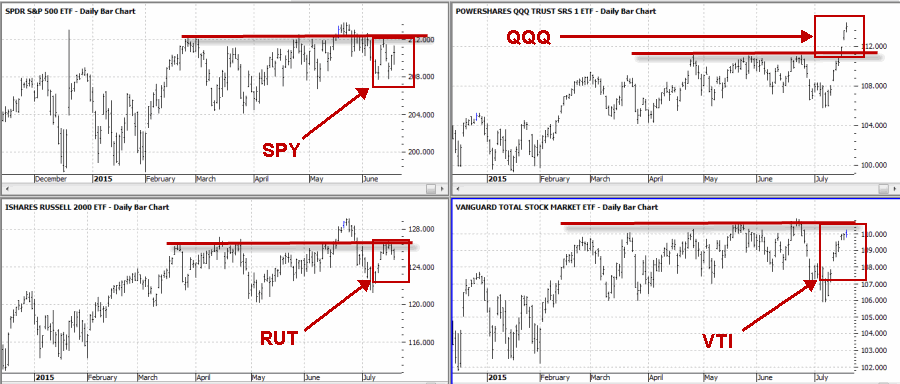 Figure 1 – Nasdaq at new highs; Others…not so much (at least not yet); Courtesy: www.ProfitSource.com)
*Another yellow flag occurs when an index goes up but the majority of stocks do not.  In Figure 2 you can see that on 7/20 the Nasdaq 100 registered its 8th consecutive up day.  However, note the Advance/Decline and New High/New Low numbers for the overall Nasdaq on the same day – i.e., both are "underwater."

Figure 2 – The index is "Up", the majority of stock are not
Two important things to note  regarding this divergence between index price and market action:
*A one day reading like this is not "the end of the world" nor is it a clear sign of "The Top".
*At the same time, it is not a positive sign.
What's a Bull To Do?
If you are in the stock market you have several choices at this point, including:
1) Do nothing.
2) Do nothing but worry a lot.
3) Sell everything.
4) Keep a close eye on whether SPY, RUT and VTI follow the lead of QQQ…..or vice versa.
Sure, human nature being what it is, most people will gravitate to #'s 1 and 2, but I am going to go ahead and suggest #4.
Summary
I wrote recently about an impending confluence of potentially favorable seasonal trends.  On that basis – and since it is a pre-election year – I "want to believe" in the bull and to give the bullish trend the benefit of the doubt.  So hopefully, SPY, RUT and VTI breakout to the upside and away we go.
But if the don't – and especially if QQQ drops back below the red line drawn on Figure 1 – at the very least a bit of hedging may well be in order.
Jay Kaeppel