The good news is that the stock market has demonstrated a persistent historical tendency to perform well around stock market holidays (as I detailed here).  The bad news is that we simply do not have enough holidays (can I get an "Amen"?) Well, at least not enough to justify a standalone holiday trading strategy.
Or do we?
(See also Why You Should Be Rooting for a Bullish January)
One Approach to Holiday Trading
For this test we will employ the following rules:
*If today is within 3 trading days before or 3 trading days after a stock market holiday we will hold ticker UMPIX (Profunds Ultra MidCap – which tracks the daily change for the S&P 400 MidCap Index times 2).
*For all other trading days we will hold cash and will assume we earn an annualized rate of interest of 1%.
*We will start our test on 2/7/2000, which was the first day of trading for ticker UMPIX
The growth of $1,000 invested using the rules above appears in Figure 1 along with the growth of $1,000 invested in the Dow Jones Industrials average on a buy-and-hold basis during the same time.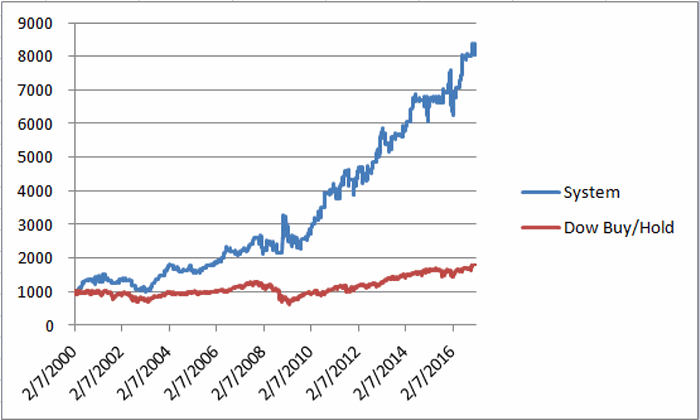 Figure 1 – Growth of $1,000 invested in ticker UMPIX using Holiday Days Trading Rules (blue line) versus buying and holding the Dow Jones Industrials Average (red line); 2/7/00-1/24/17
The annual returns for this method versus Dow buy-and-hold appear in Figure 2.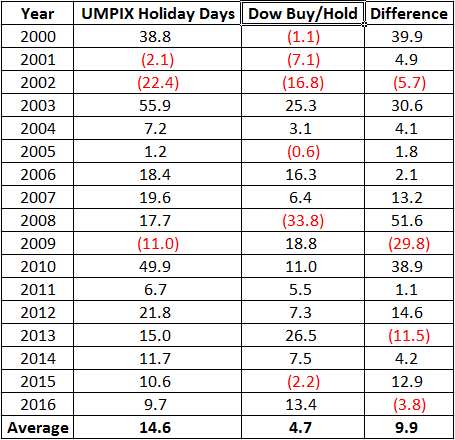 Figure 2 – Annual Results of Holiday Days Trading Method versus Dow Buy/Hold
*Figures for Year 2000 in  Figure 2 start on 2/7/2000
For the record:
*The system is in UMPIX only 20.75% of all trading days and in cash 79.25% of all trading days.
*The average annual return for System = +14.6%
*The average annual return for Dow Buy-and-Hold = +4.7%
*The maximum System drawdown was -34.3%
*The maximum Dow Buy/Hold drawdown was -53.8%
(See also Please Don't Buy That S&P 500 Index Fund)
Summary
So is this simple approach to holiday trading a viable standalone strategy?  I will leave you to draw your own conclusions.
Jay Kaeppel