OK, I understand that the sugar market is not top of mind for a lot of people.  But if you ate as much of it as I do you would better understand my fixation.  Beyond that, one the keys to success for a trader is to identify potential opportunities wherever they may lie.
A Potential Reversal in Sugar?
A glance at Figure 1 below reveals a classic (potential) "key reversal" pattern for the October 2016 sugar futures contract.  As you can see, sugar has a history of forming multiple tops and/or bottoms and then reversing.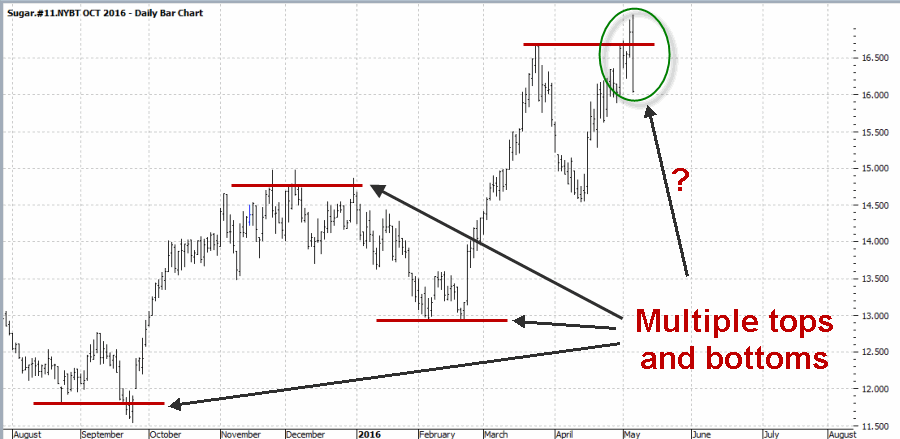 Figure 1  – A potential key reversal in October sugar (Courtesy ProfitSource by HUBB)
In the last several days:
*Price broke out to a new high (for the move) for one day
*Tried to trade higher the next day
*Then collapsed like, um, a rotten tooth(?)
Is this a tradable event?  Some technical analysts might say "yes", while others might say "no", or more likely, "maybe".  Now look at Figure 2 which displays the weekly Elliott Wave count for October sugar as calculated by ProfitSource from HUBB.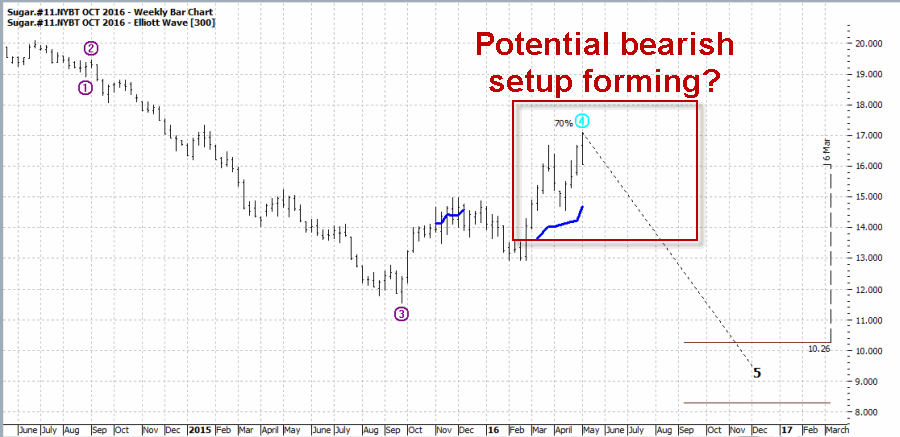 igure 2 – Weekly Elliott wave count for October sugar may be setting up bearish (Courtesy ProfitSource by HUBB)
As you can see in Figure 2, the weekly EW count for October sugar is projecting the potential for sharply lower prices if there is a breakout to the downside below the rising blue line.  A word of caution: Elliott Wave counts have a way of shifting over time so this is simply a "projection" based on the current chart configuration, and NOT a prediction.
Summary
So is the seven month rally in sugar over?  Are we headed back down to 10 or 11 cents a pound?  Is now the exact right moment to sell short?
Sorry folks, but I have to go with my stock answer – "it beats me."
The only thing I do know is that I will be keeping an eye on the weekly chart and if:
*The current Elliott Wave count (i.e., setting up a Wave 4 sell) holds, AND
*October sugar breaks below the rising EW blue line (see Figure 2);
*There may be an opportunity to play the short side in sugar.
Which could be bad news for my teeth….but I digress…..
Jay Kaeppel