In this article dated 1/28/16 I wrote about a simple two-fund portfolio that had somehow managed to make money from the end of January to the end of April, 27 years in a row.  OK, make that 28 years in a row.
(See also A 'Simple Hedge' as Market 'Bumps it's Head')
The portfolio was 50% invested in retail stocks (via ticker FSRPX) and energy services stocks (via ticker FSESX).  As you can see in Table 1 below, FSRPX underperformed most of the major averages but FSESX far outperformed.  As a result, the 50/50 FSRPX/FSESX portfolio gained +12.8% from the end of January to the end of April.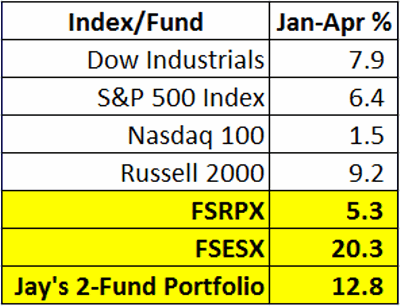 Figure 1 – Jay's 2-Fund Portfolio versus Major Market Indexes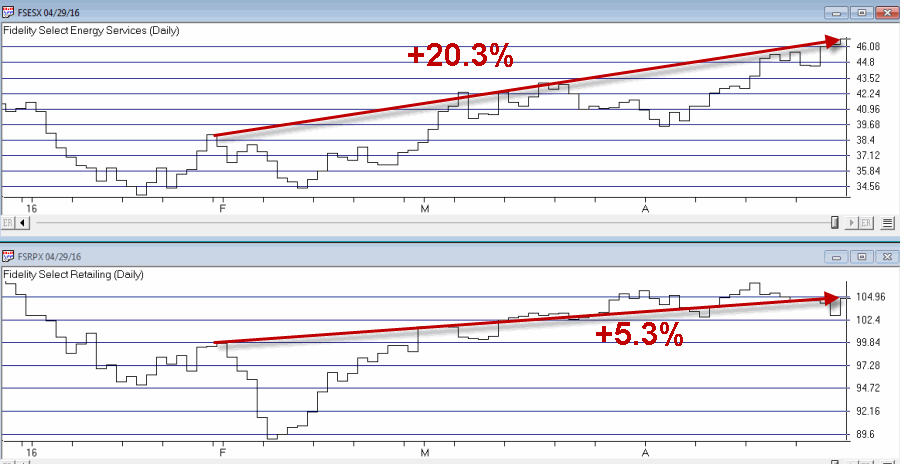 Figure 2 – Tickers FSESX and FSRPX; end of January through April (Courtesy AIQ TradingExpert)
This year's gain (+12.8%) exceeded the historical average (+10.3%) and historical median (+10.1%).  So chalk one up for the good guys.
Moving on to May
In case you missed it, I also wrote recently about a "May portfolio" here. This portfolio is a bit more defensive in nature and consists of 25% in each of the four funds listed below:
FDFAX – Fidelity Select Consumer Staples
FSHCX – Fidelity Select Health Care Services
FSPHX – Fidelity Select Health Care
FGOVX – Fidelity Government Income Fund
This portfolio has showed a gain during the month of May in 22 of the past 27 years (or 81% of the time).
Jay Kaeppel