Incredibly, gold stocks (using Fidelity Select Gold – ticker FSAGX – as a proxy) are up +53.6% since 1/19/16.  But a simple technical pattern suggests that it may be time for a "breather" (please notice that I did not say "resumption of a major downtrend").
(See also An Update on the SPY Directional Condor Spread)
Momentum is important to us "technical analysis types".  And while gold stocks have continued to tick higher, momentum "under the radar" appears to be waning.  See Figure 1.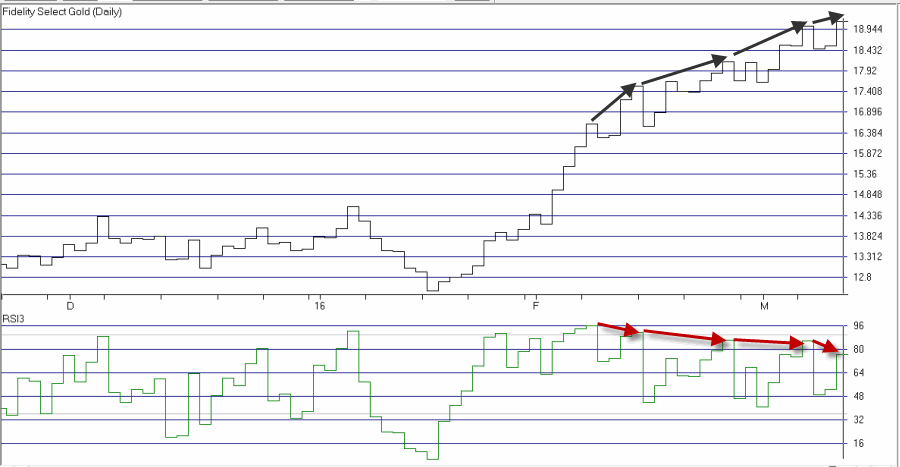 Figure 1 – FSAGX; 4 successive new highs in price marked by successively lower 3-day RSI readings (Courtesy AIQ TradingExpert)
This divergence is apparent in any number of other momentum indicators (MACD, TRIX, Coppock, etc.  Does this imply that gold stocks are about to plunge to the downside?  Not necessarily.  It is mostly a warning sign  that a pullback may be the offing.  And this is important given the size and nature of the recent advance.
If we get a standard issue 40-60% correction of the recent run-up that would result in a not inconsequential 14% to 21% decline in gold stocks – a move you may not want to sit through fully invested on the long side, and one that may be playable from the bearish side if you are a nimble trader.
Since this blog offers only "ideas" and not "recommendations" you will have to figure out exactly what – if anything – to do with this tidbit yourself.  But the bottom line is that a little bit of caution appears to be in order.
Jay Kaeppel