OK, I will admit I am a bit late with this one.  I'll go ahead and blame "The Holidays".  Anyway, if you were wondering when it might be a good time to hold real estate stocks, the answer might well be, um, "Now".
(Jay Kaeppel Interview at BetterSystemTrader.com)
Favorable Seasonal Period for Real Estate Stocks
*A favorable seasonal period for real estate stocks tends to occur between the close of the 14th trading day of November (back on 11/19/15 this year)
*The favorable period extends through December 31st of the current year
We will use Fidelity Select Real Estate (ticker FRESX) as a proxy.  However, other funds and ETFs are listed a little later.  Figure 1 displays that growth of $1,000 invested in FRESX only during the November-December period listed above since 1988.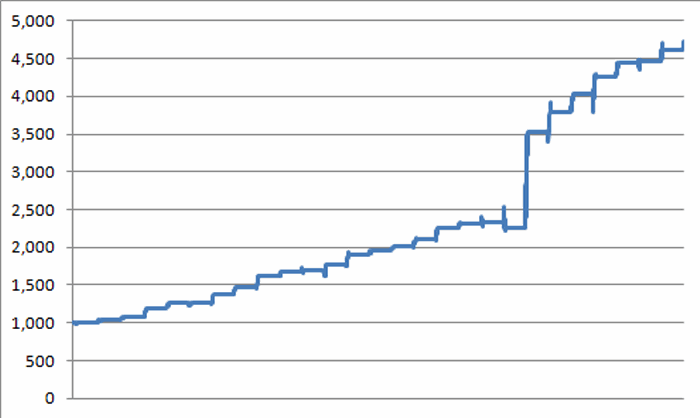 Figure 1 – Growth of $1,000 invested in FRESX during Seasonally Favorable Period (1988-2015)
Figure 2 displays the year-by-year results

Figure 2 – FRESX +(-) during Seasonally Favorable Period (1988-2015)
For the record, this period as seen:
*A gain 26 times (96.3%)
*A loss 1 time (3.7%)
*Average %+(-) = +6.25%
*Median %+(-) = +4.16%
For the record, a 96% success  rate is what we "quantitative analyst types" refer to as  "statistically significant".
A Few Alternatives
Beyond FRESX traders might also consider:
*ProFunds Real Estate fund (REPIX)
*Rydex Real Estate fund (RYRIX)
*iShares Dow Jones Real Estate ETF (IYR)
*Vanguard REIT ETF (VNQ)
Summary
Like I said, I am a little late with this one.  As of 11/27 FRESX was already up +2.1% from its close on 11/19.  So is it already too late to get into real estate stocks?
It beats me.
As I always say, the one "catch" with using seasonals as a stand-alone strategy is that there is never any guarantee that a particular trend with  work "this time around".
Nevertheless,  as a wise man somewhere probably once said, "96.3% is 96.3%, what more do you want from me?"  So short-term traders might consider looking at any short-term weakness in real estate stocks as a potential buying opportunity.
(Jay Kaeppel: Portfolio Manager for New Investment Program)
Jay Kaeppel