Today's article is an update on this oldie but goodie.
When people ask me if momentum investing "works", at this point – because I am older and (even) crankier than I used to be – I typically refer them to the linked article above and grunt "decide for yourself."  Sorry, it's just my nature.
(See also: The Signpost Up Ahead: The September Danger Zone)
So today is an update picking up from the end of 2013.  Repeating from the original article:
In 2001, I published an article in "Technical Analysis of Stocks and Commodities" magazine titled "Trade Sector Funds with Pure Momentum", which detailed one specific and simple trading method.  While in fact this is only one of many sector trading systems that I have developed over the years – and not necessarily the best one – it remains one of my favorites.  Probably because it is just so gosh darn simple.  When I was young my Momma told me to be a simple kind of man.  Or was it a Freebird she told me to be?  Well, in any event, here are the "simple kind of rules" using Fidelity Select Sector funds:
-After the close of the last trading day of the month identify the five Fidelity Select Sector funds that have the largest gain over the previous 240 trading days.
-For this system, ignore Select Gold (ticker FSAGX).  If FSAGX appears in the top 5 funds then skip it and include the 6th highest rated funds.
-If fewer than five funds showed a gain over the previous 240 trading days, then hold cash in that portion of the portfolio (i.e., if only 3 funds showed a gain, then 60% of the portfolio would be in those funds and 40% of the portfolio would be in cash).
UPDATE FROM ORIGINAL ARTICLE: I have heard from many individuals who cannot easily get access the 240-day change in price action but can easily get access to a simple 12-month change in price action. It is perfectly acceptable to use 12-month instead of 240-trading days.  There will inevitably be some differences but it should not have a meaningful impact on long-term results. So take your pick.
-If you sell more than one fund at the end of a month, then rebalance the proceeds in the new funds being purchased (example, you are selling Funds A and B and buying Funds C and D.  You have $12,000 in Fund A and $10,000 in Fund B.  Split the difference and put $11,000 each into funds C and D).
UPDATE FROM ORIGINAL ARTICLE: I had one individual claim that rebalancing the portfolio every month generated superior results.  This may be true, however, I was unable to replicate the numbers he sent me so under the category of "old dog, new tricks" I have simply stuck the original rebalancing method just described above.  You on the other hand are free to experiment with more frequent portfolio rebalancing.
And that's all there is to it.
Year 2013
The original article was published on January 6, 2014 and the return for 2013 was reported as +48.0%.  After correcting a few mutual fund data points, it turned out that the actual result was +49.5%.
Years 2014 and 2015 to-date
During Calendar Year 2014 the Pure Momentum System gained +18.1%.  Through 9/17/15 the Calendar Year return for 2015 is +6.9%.  This compares nicely to +11.4% and -3.3% for 2014 and 2015 for the S&P 500 Index.
The Current Portfolio

Figure 1 – the current Pure Momentum Portfolio
The Important Caveats
The outsized gains registered in 2014 and the fact that the system is "Up" in 2015 while the market is "Down" will certainly curry favor in support of this as a viable investment approach.  Nevertheless, it is important for me to point out – and for you Dear Reader – to acknowledge the bad that comes with the good.
So note that:
*In 2008 this system suffered a roughly 45% drawdown so it by no means an "all weather" method that can "easily ride out bear markets."
*In 2011 this system lost a whopping -17.5% while the S&P 500 gained +0.3%.  That's just serious underperformance.
The Overall Picture
Still, if you are able to view and execute this strategy as a long-term approach, since at least 1990 the "good" has overall far outweighed the "bad".  As you can see in Figure 2:
*$10,000 invested in Jay's Pure Momentum System has grown +6,436%
*$10,000 invested in Jay's Pure Momentum System has grown +470%
The disparity in long-term returns from this mechanical system versus simple buy-and-hold is what we "quantitative analyst types" refer to as "statistically significant."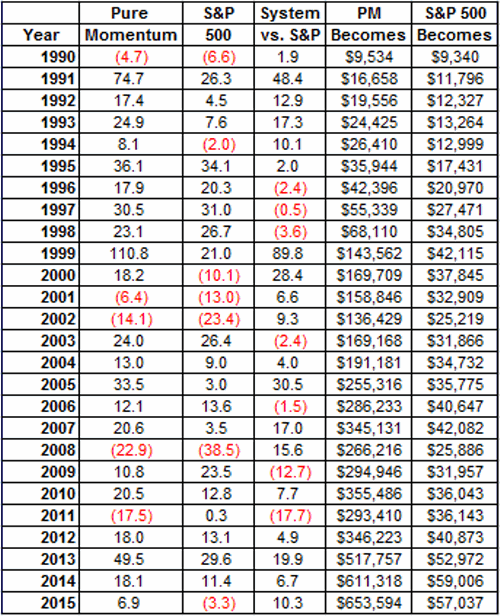 Figure 2 – Year-by-Year "Jay's Pure Momentum" versus SPX Buy-and-Hold
Disclaimers:  Past results in no guarantee future results.  All figures presented in this article are generated using data from sources that are assumed to be accurate.
Jay Kaeppel